Software Licensing Solutions that Match Your Requirements
All our software licensing solutions are based on the Orion Network Licensing Platform. With the Orion OEM license, you have access to Orion's full set of capabilities. Acropolis gives you the added security of a reliable hosted service whose uptime and operations are managed by Agilis. Nephele is an elastic monthly subscription based hosted licensing solution that enables ISV startups and small-businesses to access most of Orion's capabilities at a low monthly subscription fee. The comparison matrix below is a guide to assist you with selecting the most appropriate software licensing solution for your company.
Software Licensing Solutions for All Stages of Market Growth
Our licensing software solutions are designed to scale with your company and revenue growth. As a startup or small-business ISV, you can select the appropriate Nephele subscription plan, and manage your capital outlay according to the stage of your company and products in the marketplace. As your products gain market share, you can accordingly scale your Nephele subscription in sync with your market penetration. Eventually, as your products gain mainstream market acceptance, you can seamlessly transition to the Orion OEM or Acropolis license.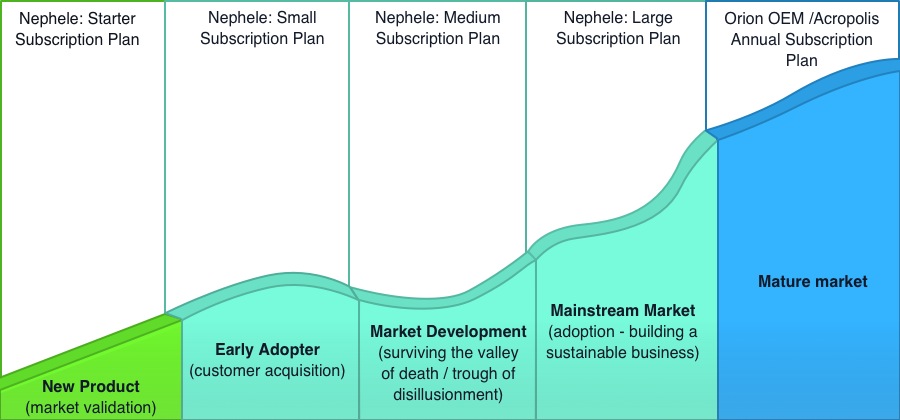 We have Licensing Solutions for All Major Industries
In addition to supporting standard licensing scenarios, our licensing software solutions include capabilities that are especially suited to specific major industry segments: