Java Enterprise Software Licensing Case Study: Blueprint
Named a Gartner "Cool Vendor" in Application Development, and winner of the 2009 Jolt Excellence Award in Design and Modeling, Blueprint is a global leader in requirements solutions. Blueprint delivered the industry's first requirements workbench built for today's software requirements authors. Blueprint's Requirements Center™ flagship product empowers authors and reviewers to visually define, simulate, validate and publish requirements for context and comprehension-rich collaboration with increasingly distributed and 3rd-party stakeholders – from the capture of business process definitions and textual requirements, all the way through more complex use cases, data, business rules, UI simulations and complete test case generation. Blueprint solutions eliminate requirements errors and miscommunications, and enable companies to deliver software projects faster, with less cost and rework, and greater user satisfaction. Blueprint is headquartered in Canada, with a global presence and customer base primarily in North America and Europe.
In 2006, Blueprint needed to upgrade its inconvenient dongle-based licensing system to a technology that supported both floating licensing and software-based node-locked desktop licenses. After evaluating a number of native-Java licensing solutions in the marketplace, Blueprint selected the Orion Network Licensing Platform from Agilis. Integration of the Java-based Requirements Center product with the native-Java Orion client library was smooth and rapid. Alexandre Folomechine, Principal Architect, recalls: "The Orion Java API is very good, and easy to integrate with. We have not had to change our first integration in the three years since it was completed". Alexandre also noted: "We were also easily able to incorporate a 3rd-party obfuscator into our product build process in order to protect our Orion-integrated code from reverse engineering, without any issues."
Orion's support for the full range of licensing scenarios with a single application integration and executable enables Blueprint to provide a single product download package to customers that purchase floating licenses managed by an Orion License Server installed within their worldwide intranets, as well as customers that purchase a desktop license. For customers who purchase floating licensing, Blueprint provides download access to the Orion License Server package in addition to their own application. Matt Wise, Director of IT, commented: "Our customers find the installation of the Orion License Server to be pretty straightforward. Occasionally we answer a question or two by phone, or log in remotely to complete an installation, but it goes smoothly. The Orion License Server is very reliable and we have very few issues once it is installed".
In order to node-lock the Orion License Server itself, Blueprint provides the customer with a machine fingerprinting utility that reads the hardware and operating system parameters of the target system on which the Orion License Server is installed so that the customer can report node-locking information to Blueprint at the time of order fulfillment. Blueprint inputs the machine fingerprint to the license-generation system that issues the node-locked floating-license key. To avoid any interruptions due to minor hardware and operating system changes to the machine hosting the Orion License Server, Blueprint uses Orion's Fuzzy Fingerprinting technology to lock the server license to the target system's MAC address, hard drive ID and machine logical name in lenient mode – if any one of these parameters changes after a machine upgrade, the node-locking check will still pass. The Fuzzy Fingerprinting node-locking technology is especially suited for virtual-machine environments. As Matt Wise noted: "We also allow our customers to install our application on a virtual machine; in this case we lock to both the machine's logical host name and the user's log-in name in addition to multiple hardware parameters, thus keeping our license secure and at the same time allowing them to run on a virtual system where some of the hardware parameters may legitimately change".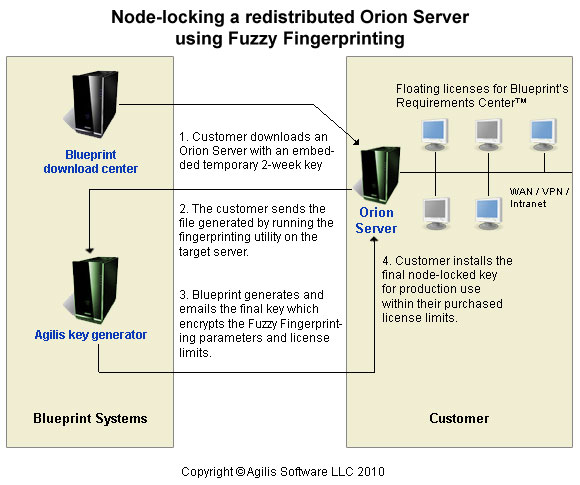 For desktop licensing, Blueprint has been using Agilis' entry-level EasyLicenser product in conjunction with the same Fuzzy Fingerprinting technology for node locking and is moving to an automated product activation approach (still using Fuzzy Fingerprinting) with a hosted Orion Server. As Matt Wise noted: "With automated activation we will reduce our operations overhead. It will also be more convenient for our users, with 24×7 automated activation and user self-service license relocation". In addition to supporting single-user licensing, Blueprint will also use Orion's enterprise licensing capability which enables large customers to autonomously activate licenses up to their user-count limit from an enterprise license pool under a single license ID.
Blueprint issues time-limited licenses for trials. Some customers purchase the right to have an unlimited number of licenses – for these customers, Blueprint also issues time-limited licenses in order to require a periodic license re-issue. This provides Blueprint with the opportunity to audit the customer's license database and ensure that the customer is in compliance with its license terms. Blueprint has also used Orion's feature-licensing capability to offer different editions of their product, where each edition enabled a different feature set. In addition to offering the current floating anonymous-user licensing option, an option to purchase floating named-user licenses will be made available in response to customer requests.
In addition to supporting 'traditional' floating licensing, where the application acquires a license at startup and automatically returns it upon exit, Blueprint also gives its users the option of checking out and securely caching a license for an extended period that survives application termination or abnormal exit. At the end of the requested checkout period, the license is automatically made unavailable to the application and reclaimed by the Orion License Server (and made available to other users) with no communication with the user's system. In the interim, neither the application's machine nor the license server needs to be running in order for the license to remain checked out, and no heartbeats are required in order for the licensing mechanism to function. While checked out, the license is automatically node-locked to its machine. Blueprint uses Orion's ability to set a limit on the allowed checkout period to cap any such checkout at 14 days., Blueprint has configured the Orion licenses to permit the customer's System Administrator to cancel a checkout in order to free up that license for use by another user, in the event that a permanent hardware failure or other condition occurs on a machine that has a license checked out, and users do not want to wait 14 days for the license to be automatically freed.
Blueprint continues to expand its use of Orion and Agilis's licensing solutions. Martin Crisp, CTO, said: "We are very happy with Orion. Even though we did not fully leverage Orion's full range of capabilities, it has met all our needs for the past three years and been very easy to integrate and administer. We now intend to go one step further and use Agilis's hosted Acropolis service and the Acropolis Integration Manager (AIM) license lifecycle management solutions to virtually eliminate all administration and operations overhead, as well as improve our customers' experience".