Java Enterprise Software Licensing Case Study: Agitar
Agitar Technologies provides Java testing solutions that enable enterprises to release Java applications faster, reduce the cost of bugs, and more easily change both new and legacy applications to meet changing business needs. Their 'AgitarOne' product family enables software teams to create, use, and manage the extensive set of unit tests needed to be truly agile. See www.agitar.com for more details.
Agitar has several hundred customers around the world across a range of industries, including finance, defense, general commercial, and embedded systems companies. Their users include Avaya, Verizon Business, Northrop Grumman, Applied Biosystems, Royal Bank of Scotland, Lloyds TSB, and Ricoh Company.
Agitar has been using Agilis's Orion Network Licensing Platform since 2004, and currently offers floating licensing from a re-distributed Orion Server.
When re-distributing Orion, the Orion Server can be installed as a standalone license server or embedded. Agitar chooses to embed Orion with the AgitarOne Server. For Dale Brenneman, VP of Technology for Agitar, this is a key capability: "Since the Orion Server is embedded it is fairly invisible, and short and sweet to install. Unlike other license servers that can't be embedded there is no cumbersome separate licensing process to be brought up. Our customers really appreciate the ease of installation."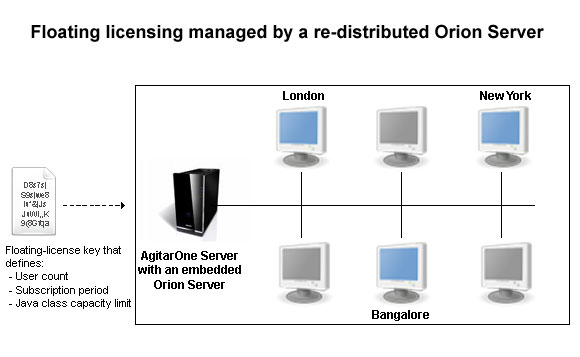 Agitar uses the re-distributed Orion Server to offer a range of license models. Customers purchase a certain number of floating licenses, which can also be governed by a license subscription, such as a one or two year period. For some customers they also license based on the number of Java classes that can be analysed. The AgitarOne Server makes checkouts against the Orion Server as it services client requests over the customer's internal network, with the Orion Server tracking and enforcing the user-count, Java-class count and subscription limits.
Agitar finds the native Java-based Orion technology to be a perfect match with their native-Java applications. They also find that Orion provides all the licensing capabilities they require: "Orion meets our needs in all situations", confirmed Dale, "With the one solution we can support user-count, class-count and subscription licensing from a re-distributed server".